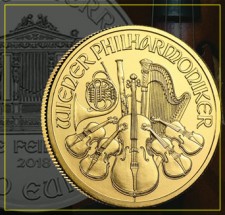 Available for pre-order at Bullion Exchanges.
NEW YORK, December 4, 2017 (Newswire.com) - ​​The Austrian Mint has released its 2018 Austrian Philharmonic coin, the latest in a series unmatched for its beauty, divisibility, and tie to history: 2018 1 oz Austrian Gold Philharmonic Coin. This series was first launched in 1989 in gold, and since then has grown to be offered in silver and platinum and has gained a huge, global following.​
The Birth of Orchestra
In March of 1842, conductor Otto Nicolai was handed the reins for the Karntertortheater. That same month, he launched the Philharmonic Academy, which is attributed to now as the origin of the orchestra. From this academy came the Philharmonic Idea, three principles that are still used even today by those trained in an orchestra. This revolutionary policy is where a modern-day orchestra was born and also provided improvements both technical and musical.
2018 1 oz Austrian Gold Philharmonic Coin is now available at Bullion Exchanges.
There is no better city to be responsible for the birth of orchestra, as Vienna was home to the most well-known names in classical music, among them Wolfgang Mozart, Ludwig van Beethoven, and Joseph Haydn. Without this city and its population, classical music today would be unrecognizable.
The Vienna Philharmonic is based out of Golden Hall, the most famous of all of Austria's concert halls. Within Golden Hall stands the Great Organ, an internationally recognized symbol of the prestige of the Vienna Philharmonic.
An Enhanced Shine
The obverse of this coin features an array of musical instruments, with a cello at the center that is surrounded by four violins, the Vienna horn, the bassoon, and the harp. This image is engraved with "Wiener Philharmoniker". The reverse displays the Great Organ of Golden Hall, an awe-inspiring image to any lover of music, encircled by inscriptions of the face value, year of mintage, and purity of the coin.
This intricate, exquisitely designed coin was struck in Brilliant Uncirculated, a condition that affords it a superior shine. Struck from .9999 fine gold, this iconic coin is appreciated by investors all over the world. It is fully backed by the Austrian Federal Government for its purity and weight, and because its intrinsic value is more than the denomination it holds, it makes for an excellent, safe investment.
Order today!
Bullion Exchanges is one of the largest and most reliable precious metals retailers in the NYC Diamond District. We ensure a fast, pleasant, and secure retail and online shopping experience.​
Source: Bullion Exchanges