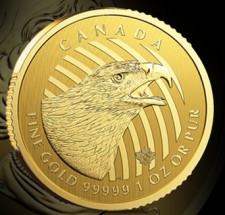 Calling the Wild
New York, NY, February 2, 2018 (Newswire.com) - The Royal Canadian Mint is celebrated worldwide for its pure and high-quality releases. Their famous Call of the Wild series is no exception. This coin, minted in the highest purity gold available, and its intricate detail have already sparked high demand.
The Fifth in the Famous Call of the Wild Series
The golden eagle has been tied to symbols of courage and power since the Roman Empire, who associated it with the god Jupiter and made use of its image as a war emblem. Today, they live about 30 years in the wild and can weigh between six and 15 pounds. Most impressive is their wingspan, which can stretch to up to 7.5 feet.
The field holds a micro-engraved maple leaf laser mark, which when magnified shows "18" for the coin's year of issue.
Golden eagles are highly recognizable for the gleaming feathers that earned them their name and their high pitched call, which is usually used for communication with its mate and nestlings. They live all around the world but spend most of their time and specifically their summers in Canada, favoring the mountainous areas along with the shrub and grasslands.
Available in Beautiful, Protective Assay Credit Card Packaging
This incredible coin displays an intricately detailed image of the golden eagle, the image seeming to rise out of the face of the coin and make eye contact with the observer. The field holds a micro-engraved maple leaf laser mark, which when magnified shows "18" for the coin's year of issue. The obverse features the iconic effigy of Her Majesty the Queen. This exquisite golden eagle image was designed by the talented Pierre Leduc.
Produced of 99.999% pure gold, the highest purity available, it holds a face value of 200 dollars (CAN). This face value is the highest face value of any legal tender one ounce gold bullion coin. The credit card assay packaging provides protection and safe handling, and is signed by the Chief Assayer of the Royal Canadian Mint, while also containing the certification of the authenticity and purity of the coin.
Order Now!
Bullion Exchanges is proud to bring you the 2018 1 oz Canadian Gold Golden Eagle - Call of the Wild $200 coin made of the finest gold in the world. Customers can easily find us in our brand-new store located at the heart of New York City's Diamond District. If you have any questions regarding this coin as well as any other product in our great catalog, please reach out to us at 800.852.6884 or chat to us through our many convenient portals like Facebook, or on our website located at BullionExchanges.com and our friendly associate will be happy to assist you!
Source: Bullion Exchanges